Hotels Kuala Lumpur
Find us on Google+
Find us on Twitter
Sama Sama Hotel KLIA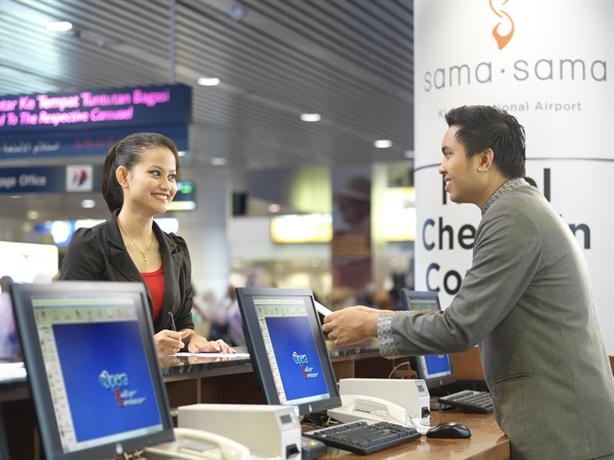 Sama Sama Hotel KLIA
Sama Sama Hotel KLIA from www.hotelscombined.com
KL International Airport, Jalan CTA 4B, Kuala Lumpur International Airport Area, Kuala Lumpur, Malaysia
Shopping - Kuala Lumpur is truly one of the best places for shopping. There are so many things one can find here and can also enjoy and indulge with the low prices of every sold item. There are so many well known shopping stores in Kuala Lumpur that will surely satisfy everyone's shopping needs. There are also lots of vendors selling along the sidewalks where one can find almost everything. One will always be amazed of what they could find while just strolling along the sidewalks of the city.
Featuring outdoor tennis courts, a Jacuzzi and a sauna, the Sama Sama Hotel KLIA offers a modern base when visiting Kuala Lumpur. Some of the premium facilities at this grand 5-star hotel include free Wi-Fi and a fitness centre.
Each comfortable room at the hotel features a seating area, bottled water and a bathtub.
Guests can dine at the hotel's on-site restaurant, which serves Chinese and Cantonese cuisine. The hotel's comfortable restaurant is open for breakfast, lunch and dinner.
The hotel is less than 10 minutes' drive from Kuala Lumpur International Airport. The staff at the tour desk will be able to assist in organising and booking tours and activities during your stay in Kuala Lumpur.
Nearby landmarks - Kuala Lumpur International Airport
Sepang International Circuit (10 mi / 16.1 km)
Putrajaya Convention Centre (15.1 mi / 24.3 km)
Seri Gemilang Bridge (15.4 mi / 24.7 km)
Putrajaya Marina Aquarium (15.4 mi / 24.9 km)
Putra Mosque (19 mi / 30.6 km)
Spa - Guests can indulge in a pampering treatment at the hotel's full-service spa. Services include massages, facials, body treatments, and manicures and pedicures. The spa is equipped with a sauna and a spa tub.
Sama Sama Hotel KLIA
Jalan CTA 4B, 64000 KLIA, Sepang,Selangor Darul Ehsan, Sepang, Kuala Lumpur, Malaysia
Sama Sama Hotel KLIA from www.agoda.com
Sama-Sama Hotel Kuala Lumpur International Airport, a prizewinning 5-star international hotel in Kuala Lumpur, is conveniently located next to KL International Airport's main terminal building.
The hotel is connected to KL International Airport via a sky-bridge and is just a five-minute walk away. For guests' accessibility, this airport hotel offers a shuttle service between the airport and the hotel between 5:00 am and 1:00 am.
Guests can also check into their room at the hotel check-in counter which is located at the baggage claim area (Carousel F) of the airport's international arrival hall. In support of the Government of Malaysia to promote a non-smoking environment, Sama-Sama Hotel Kuala Lumpur International Airport has converted all the rooms to non-smoking rooms.
5 Star Hotels Kuala Lumpur
5 Star Hotels Kota Kinabalu
Hotels - Perhentian Islands
Malaysia Hotels - Pangkor Island

Langkawi Island
Putrajaya 5 Star Hotels