Serbia Belgrade Hotels
Find us on Google+
Find us on Twitter
"Serbia is a land of surprising contrast and contrary to perception, offers tourists a truly warm and hospitable welcome catering for everybody. Given the turbulent history of recent events, Serbia is now on the up and tourists are guaranteed an exceptional destination at incredibly good value. My advice is - visit Serbia before it changes!"
Russel Stenhouse, Suffolk Magazine
Take a trip to Serbia and see the wealth of wonders the Province has to offer. Serbia has long been on the list of top destinations to visit in Europe. vrzic.com offers the best prices for hotels in Serbia, with 402 hotels ready for instant reservation via our secure online booking engine. We have every main region covered, including Vojvodina, Central Serbia, with lots of promotions such as early bird offers and last minute deals.
You can find the perfect hotel at the lowest rate for stays in cities such as Novi Sad, Sombor, Palic. vrzic.com offers a great range of irresistible hotel deals. Feel free to browse through our numerous hotels for the best online rates.

Finding the cheapest price for top hotels in Belgrade Serbia is easy with vrzic.com. With over 161 different establishments, there is a great variety to choose from. Popular areas are Belgrade where visitors can enjoy the quintessential experiences of Belgrade. The city is served by 1 airports which means it is accessible from almost every major city in the world. Although there's plenty of pleasure to be had simply walking around the city, there are 8 museums and galleries in Belgrade that deserve some of your time.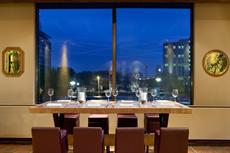 Hyatt Regency Belgrade Hotel
PO Box 067, Milentija Popovica 5, Belgrade, Serbia
Hyatt Regency Belgrade Hotel from www.hotelscombined.com
The Hyatt Regency Belgrade is situated within a short drive of the city centre and offers modern accommodation as well as a steam bath, an indoor pool and a spa & wellness centre. Featuring body treatment facilities, a fitness centre and facial treatments, the hotel provides guests with an ideal base while visiting Belgrade.
This luxurious 5-star hotel provides a whole host of high quality facilities, including valet parking and a coffee bar. For a fast and effortless arrival and departure experience, guests can take advantage of the hotel's express check-in facility. The hotel's multilingual staff will be glad to provide dining suggestions and assist you in organising your stay in Belgrade.
Rooms at the Hyatt Regency Belgrade are elegant and spacious, and feature a mini bar. Standard inclusions to the bathroom are bathrobes and a hair dryer.
Guests can enjoy a beverage at the hotel's cosy bar, after savouring a meal in the restaurant. Room service is available any time of the day.
Belgrade Nikola Tesla Airport is under a 20-minute drive from the Hyatt Regency Belgrade. There is a 24/7 front desk and the friendly staff can recommend places to visit and provide other local information.
Knez Mihailova Street and Kalemegdan Fortress are five minutes away by car.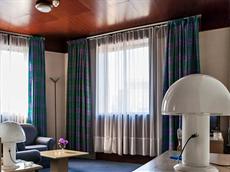 Slavija Lux Hotel Belgrade
Svetog Save 2, Belgrade, Serbia
Slavija Lux Hotel Belgrade from www.hotelscombined.com
Situated in the city centre, the Slavija Lux Hotel allows for easy access to Belgrade's popular sightseeing and entertainment areas. It offers city views and 4-star rooms.
The Slavija Lux Hotel includes a fitness centre, a casino and a sauna. Also on offer for guests are massage services, an express check-in and check-out feature and a cafeteria. The hotel's multilingual staff will be glad to share local knowledge and help you organise your stay in Belgrade.
All of the large rooms at the Slavija Lux Hotel feature a hair dryer, a mini bar and cable / satellite channels. Amenities featured in the rooms include a desk with an electrical outlet, a flat-screen TV and a private bathroom. A bathtub and a telephone are also on offer in every room.
Guests can fill up on a buffet breakfast each morning, before setting off for a day of sightseeing in Belgrade. If you want to eat at the hotel, the restaurant is open for lunch and dinner. A large selection of eating options can also be found in the area.
With Belgrade Nikola Tesla Airport only a 20-minute drive away, the Slavija Lux Hotel also provides a shuttle service. For guests with a car, parking is available at the hotel.
Serbia in Your Hands Travel Guide
This is the third edition of the Komshe travel guidebook to Serbia, written and published by travel specialists from that country. The guide is divided into sections covering 8 regions in Serbia (including Belgrade), with more than 150 tourist destinations. There are regional maps and accommodation listings plus other practical information. Use it to discover Serbia's history, religion, Christian monasteries, traditional architecture and cuisine while gaining an understanding of customs, manners and more! There are other basic, useful facts: visas, diplomatic missions, health and security, transport, banks and currency, student information, shopping advice, sports activities, a glossary of common Serbian phrases and other important tips for travellers. There are more than 650 colour photos which show clearly what to expect before the traveller arrives. Of special note are places rarely visited by outsiders - ancient castles, monasteries, national parks, and ruins of the Roman, Ottoman, and Austro-Hungarian cultures that left their mark in Serbia. The guide includes insider recommendations for Serbia's roaring music festivals, arts, opera, and picturesque floating cafes on the Danube.
VISIT Hotel Picasso Lux Belgrade......Vila Marija Resort Belgrade
Things to Do in Belgrade

Belgrade Serbia Kalemegdan Fortress
The Fortress is probably the major attraction in Belgrade for inhabitants and tourists alike. It is situated in the old town above the confluence of the Danube and the Sava river. The history of the fortress dates back until Roman times and it changed its masters many times over the centuries. It's a great place to explore, sit in the surrounding park and let the world go by. It also hosts the military museum in case you want now more that particular field of interest.

Belgrade MILITARY MUSEUM
The city has been overrun over 40 times so a military museum - located within the Kalemegdan fortress - is a good place to gain a sense of history of Belgrade and Serbia. Most exhibits are in Serbian, but the understanding comes through regardless. War upon war - and Serbia has lost its fair share. WWI cost the nation some 25% of its population - far the worst of any nation in that sad affair. WWII exhibits give you an indication of just how confused the state of affairs was in Yugoslavia during that war. The last exhibits describe the break-up of Yugoslavia and the NATO intervention - government buildings hit by cruise missiles during that war are still in the destroyed state - see the Defense Ministry, for example.
Fortresses In Serbia
Across Serbia there are some 200 sites preserving the remains of old fortresses and fortified towns dating back to ancient times. However, following many centuries of war and destruction, only those fortresses which retained their military function into the Middle Ages, under Turkish rule, have been preserved. Most of these fortifications were extended and adapted as military technology developed, and in doing so lost their original mediaeval appearance. Some of them were the antecedents of contemporary Serbian towns, which even today boast portions of old walls and towers.
Caves - Natural Monuments Serbia
Caves and potholes are classed as speleological natural monuments. The most well-known caves open to visitors are the Resavska, Zlotske Pecine, Rajkova, Potpecka, Bogovinska and Stopica Pecina caves. Of the caves which are only partially adapted or were once open to visitors but have since fallen into ruin, the most interesting are the Potpecka, Prekonoska and Petnicka Pecina caves. Entry to these caves without an expert guide and appropriate equipment is not permitted.
Kopaonik
Sunset Serbia
Spas Health resorts Serbia

Tourism in Serbia
Belgrade Hotels
Amazing Wonders