5 Star Luxury Hotels Dubrovnik
Find us on Google+
Find us on Twitter
Excelsior Hotel Dubrovnik
Dubrovnik, the pearl of the Adriatic, has been added to UNESCO's World Heritage list and this status is proved by the 1436 protected historical buildings.
The historical city of Dubrovnik, the former center of the Dubrovnik Republic, is surrounded by city walls 2 km long which defended the city against attack both on land and at sea for centuries.
Within the city walls a beautiful city developed with many churches, palaces and cultural monuments as well as the Stradun, a well known boardwalk for both young and old from all over the world which was once the stage for all major events.
Many islands close by, a crystal blue sea, rich natural and cultural heritage, the Mljet National Park, historical villas and promenades are what make the Dubrovnik Riviera one of the most attractive destinations in Croatia. Here one can enjoy various activities, have fun all night long, enjoy autochthonic food and wine and the hospitality of the people.
Our offer of hotels and accommodation will ensure that you have an unforgettable holiday on the Dubrovnik Riviera.
Hotel Excelsior Dubrovnik Croatia
Frana Supila 12, Dubrovnik, Croatia
Hotel Excelsior Dubrovnik Croatia from www.hoteltravel.com
If you are looking for that perfect vacation hotel, then Excelsior Hotel & Spa is the place for you. Located just five minutes from the beach, the Excelsior provides moderately-priced rooms, each equipped with air-conditioning, bathroom, television, and telephone. The hotel also has a wide array of recreational facilities such as a sauna, massage, Jacuzzi, and swimming pool. All hotel rooms are equipped with the basic amenities.
Recognised as one of the finest hotels in the Mediterranean by the UK's Sunday Times newspaper, it is only when you visit that you can fully appreciate the spectacular setting: the tranquil gardens in which to stroll; four fine-dining restaurants, all offering panoramic views of the Adriatic Sea; a private beach, back-dropped by the UNESCO-protected Old Town. Among the luxury hotels in Dubrovnik, the Hotel Excelsior is the benchmark to which others aspire.
What's around - Heart of Bosanka
Sponza Palace (8-minute walk)
Orlando's Column (8-minute walk)
Church of St. Blaise (8-minute walk)
Rector's Palace (9-minute walk)
Franciscan Monastery (11-minute walk)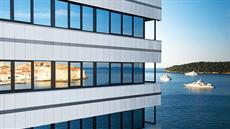 Hotel Excelsior Dubrovnik Croatia
Frana Supila 12, Ploce, Dubrovnik, Croatia 20000
Hotel Excelsior Dubrovnik Croatia from www.agoda.com
Located just 5 minutes' walk from Dubrovnik's Old Town, this seafront 5-star hotel is a local landmark. It offers a luxurious 850 m2 spa, its own private beach and 4 restaurants.
Hotel Excelsior offers elegant rooms with modern amenities, such as free Wi-Fi and pay TV. They are decorated with original artwork by well-known Croatian artists and most rooms offer a view of the Adriatic Sea.
Room service is available 24 hours. The wellness area includes a fresh water indoor pool, 2 hot tubs and saunas. The spa provides direct access to the private beach. Dalmatian and international specialities are served at the Abakus Piano Bar & Restaurant.
Fresh seafood and fine wines can be enjoyed at The Thai Table and the Prora Beach Restaurant. All restaurants have a view of the sea. There is a 24-hour reception, where guests can book island hopping excursions, rent a private boat or a car.
The hotel also offers a fleet of luxury limousines for airport transfers.
Spa - The onsite spa has 3 treatment rooms including rooms for couples. Services include deep-tissue massages, hot stone massages, sports massages, and massages. A variety of treatment therapies are provided, including aromatherapy. The spa is equipped with a sauna.
The spa is open daily.
Hotel Excelsior Dubrovnik Croatia
Frana Supila 12, Dubrovnik, Croatia
Hotel Excelsior Dubrovnik Croatia from www.hotelscombined.com
Many tourist magazines referred to the beach under the city walls as one of the most beautiful beaches in Europe. Swimming and enjoying the view of the walls, which are a spectacular trace of ancient times, is truly a unique experience. The beach itself is a pebble beach with a terrace where one can enjoy a refreshing beverage.
Near Dubrovnik, the beaches are mainly rocky, while the hotel beaches are mainly concrete terraces. An excursion to Lokrum is also a unique opportunity swimming in a lake situated in the middle of an island and you can swim to a small cave. On the island of Lopud, one of the Elaphite islands, is a long sandy beach known as Sunj and getting to the beach is quite an adventurous walk. However, once you have reached the beach, you will see that it was well worth it.
Top 5 Star Luxury Hotels Croatia
Hotel Pagus Croatia

Cavtat Hotels
Northern Dalmatia
Hotels Korcula