Enjoy Heaven on Earth at Royal Plaza Hotel Hong Kong
Find us on Google+
Find us on Twitter
Royal Plaza Hotel Hong Kong
Royal Plaza Hotel Hong Kong
193 Prince Edward Rd. West, Kowloon, Mongkok, Hong Kong
Royal Plaza Hotel Hong Kong from www.hoteltravel.com
Royal Plaza Hotel Hong Kong is an exceptionally convenient option for those travellers who arrive in Hong Kong from China by land. It is only 45 minutes away from the Chinese border. The hotel oozes its own style and luxury, and totally meets the 5-star standards. The choice of accommodation is comprised of seven various room types suitable for various guest categories. Royal Plaza Hotel Hong Kong offers four restaurants to satisfy both international and Asian culinary preferences. The hotel also provides excellent meeting facilities
Royal Plaza Hotel is a 45-minute train ride from mainland China and Hong Kong International Airport. Nearby attractions include the famous Ladies' Market, Goldfish Market and Flower Market.
Guests may also exercise at Definition Health Club, with its well-equipped gym, hot tubs and sauna.
La Scala Restaurant offers an international buffet spread, while seafood and Cantonese delights are served at Di King Heen. Drinks and live music are available at Lion Rock Bar.
Luxury Hong Kong Hotels
Hong Kong is known to be one of the most hospitable tourist spots today. The hotels in Hong Kong, which are famous for their world-class facilities, are one of the prime contributors to the growth of Hong Kong as a tourist destination. There are many kinds of hotels in Hong Kong that cater to all kinds of people, budgets, and needs. From the business traveler to the casual tourist, these hotels offer all kinds of amenities that would fit into any budget.
A statue of Bruce Lee on the Avenue of Stars, a tribute to the city's martial arts
Travel Hong Kong: 12 Must See Places
Hong Kong features a diverse mixture of characters as a result of long British occupation and a great Chinese influence. As a state of China, Hong Kong provides a good introduction to who ever wants to know more about China without entering the mainland plus a venue for more attractions with western culture and Asian spirit.
1. Hong Kong Museum of Art - Located at 10 Salisbury Rd Tsim Sha Tsui, Kowloon, the Hong Kong Museum of Art is open to anyone who wants to take a glimpse of Hong Kong's culture and history through its large collection of over 14,000 items ranging from calligraphy, paintings, Hong Kong treasure, art objects, antiques, and lithographs. The museum is open from 10:00am-6:00pm daily except Thursday (public holidays not included).
2. Hong Kong Disneyland - The newly open and the first ever Disneyland in Asia offers total fun and excitement for the whole family. The park is divided into four major attractions: Tomorrowland, Adventureland, Fantasyland, and Main Street.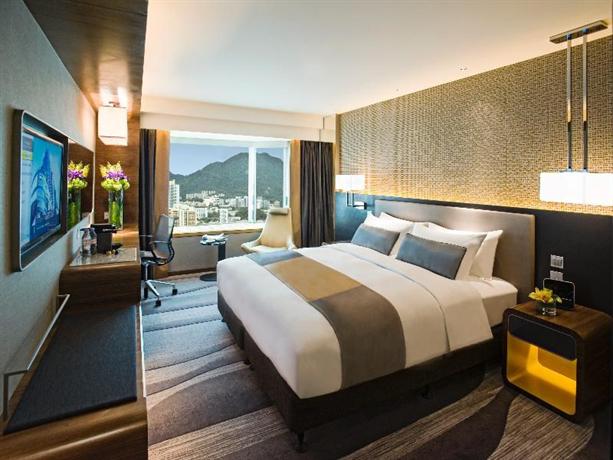 Royal Plaza Hotel Hong Kong
193 Prince Edward Road West, Kowloon, Prince Edward, Hong Kong
Royal Plaza Hotel Hong Kong from www.hotelscombined.com
Royal Plaza Hotel Hong Kong offers 5-star accommodation, plus a sauna, free Wi-Fi and an outdoor pool. It is located a brief walk from Sai Yeung Choi Street and Mong Kok Stadium.
Guests of Hotel Royal Plaza Hong Kong can begin their day at Definition, or enjoy the various leisure facilities, including fitness classes. Family amenities include a kids pool.
This modern hotel features rooms with an en suite bathroom, air conditioning and a TV. Each offer a refrigerator, slippers and a mini bar.
Royal plaza HK offers a variety of in-house dining options with La Scala and Lion Rock. A range of breakfast options are on offer in the hotel's dining room.
Royal Plaza Hong Kong is surrounded by the area's sightseeing attractions, and Ladies market, Canton Road and Langham Place are also close by. Hong Kong International Airport can be accessed with the hotel's shuttle service in under 30 minutes.
Top 10 Best Hotels in The World


Nomadic Matt's Guide to Hong Kong: The Budget Guide from the Budget Travel Expert
Hong Kong is one of the most fascinating and eclectic cities in Asia. This guide is your ticket to getting off the beaten path and having an authentic, non-touristy visit. Written by New York Times best selling author Matthew Kepnes, this book features insider tips and cuts out on all the junk, getting right to the point so you can spend less time planning and more time exploring.
What's included in the guide?
- Suggested itineraries for various lengths of time. - Suggested (and realistic) budgets.
- Ways to save money in Hong Kong. - Transportation maps. - What to see and do (and what to skip).
- Insider tips on the best local places eat, drink, and play. - Budget accommodation.
Cultural insights on the city's history, politics, and arts, including a list of suggested books and movies.
Practical tips on getting around, business hours, visas, weather, emergency contacts, and much, much more.
Four Seasons Hotels
Hong Kong 4 Star Hotels

Cosmic Guest House Hong Kong
The Upper House Hong Kong
Royal Plaza Hotel Hong Kong
Hong Kong Disneyland Resort