Adriatic Hotels Island of Krk
Find us on Google+
Find us on Twitter
Breathe in the fragrance of sage, adore the pebble beaches scattered along side the transparent clear water and spend some time to find out one of the many island dances. In an grounds in that the delicious grapes grow to evolve into the famous wine - Vrbnicka Zlahtina, discover that amazing island - the island of Krk!
Valamar Koralj Romantic Croatia Hotels
Island of Krk Hotels
The island of Krk is called "the golden island" because its sandy beaches, sunsets, wine, olive oil, and honey are all golden colored. This largest Adriatic island is connected to land by a bridge. Tourism on the island is focused on charming small towns of Krk, Omisalj, Malinska, Hotel Marina or Camping Jezevac Hotel. Visit any of these places on the island and take a walk through their narrow streets. Walking is not the only thing to do here, there is also diving, sailing, bicycling or surfing among others your hosts will be there to assist you in your wishes. Vrbnicka zlahtina is an excellent wine which goes well with traditional fishmeals, as well as shells spiced in fine olive oil.
Island of Krk Hotels
Those in search of dynamic nightlife will have a great time in Malinska since this is the center of nightlife on the island. The town of Krk is a good choice of all who search a more quiet, relaxed entertainment, or cultural manifestations that present folklore heritage. The island of Krk truly nourishes its tradition we suggest visiting the town of Dobrinj which hosts many folklore manifestations and summer schools where you can learn how to play old instruments. Middle of August finds public festivity called Stomorina in the town of Omisalj. This is a festivity celebrating first fruits with dancing of young girls and boys in their traditional apparel.
Gastronomy
The island of Krk is called the Golden Island primarily due to the color of wine, honey and olive oil, which are all products of top quality. If you come to Krk, friendly hosts will welcome you with brandy that is served with dry figs. The island's cuisine is mostly based on fresh fish, scampi and other crabs as well as shells prepared with few spices and obligatory olive oil. There are also many types of homemade pasta (macaroni, gnocchi, "surlice") served with sauces. All these delicious meals are recommended with golden colored Vrbnicka zlahtina white wine made on the island.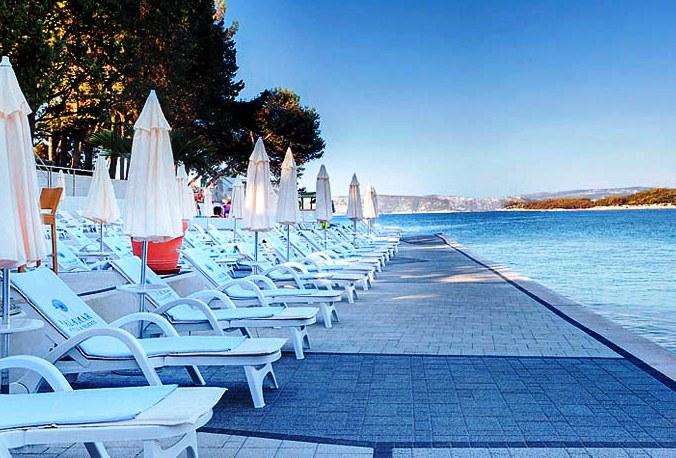 Valamar Koralj Romantic Hotel Island of Krk

Vlade Tomasica, Krk, Croatia
Hotel Croatia Cavtat Croatia from www.hotelscombined.com
Designed for both business and leisure travel, Valamar Koralj Romantic Hotel is ideally situated in Krk; one of the city's most popular locales. Situated only 0.5 km from the city center, guests are well located to enjoy the town's attractions and activities. With its convenient location, the hotel offers easy access to the city's must-see destinations.

The facilities and services provided by Valamar Koralj Romantic Hotel ensure a pleasant stay for guests. While lodging at this wonderful property, guests can enjoy meeting facilities, elevator, car park, bicycle rental, tours.

Valamar Koralj Romantic Hotel is home to 173 bedrooms, all tastefully furnished to provide comforts such as satellite/cable TV, in room safe, DVD/CD player, air conditioning, television LCD/plasma screen. Throughout the day you can enjoy the relaxing atmosphere of the garden, water sports (non-motorized), outdoor pool, massage, spa. When you are looking for comfortable and convenient accommodations in Krk, make Valamar Koralj Romantic Hotel your home away from home.
Cavtat Hotels
Northern Dalmatia
Hotels Korcula

Porec Croatia Jadran
Opatija Croatia
Central Dalmatia