Sibenik Hotels Adriatic Sea
Find us on Google+
Find us on Twitter
Sibenik Adriatic Sea Apartments
North Dalmatia includes the city of Sibenik, the coastline from the Kvarner Riviera to north with the Split, and many islands inside Zadar archipelago. Sibenik is on the coast between Zadar and Split. The cathedral there, which is considered one of Juraj Dalmatinac's masterpieces, was constructed in the 15 & 16th centuries. Among its unique features are the stone sculpted heads bordering the outside, and the baptistery in a small room in the interior. A walk through Sibenik's old town really takes you back 1000 years. While accommodation may be available in town, a better choice would be in the hotels of nearby Solaris. Although some of these are still occupied by refugees, others have been renovated to serve the increasing number of tourists. We also enjoyed the beaches of Primosten, just south of Sibenik. There we stayed in a private home, but hotels were also open to tourists. In the nearby Marina Kremik both motor and sail boats were available to rent.
We recommend: Cathedral of Saint James
Sibenik's Cathedral of Saint James took 105 years to complete (1431-1536) and is a successful mix of Gothic and Renaissance art. Three successive architects employed unique building techniques to create the cathedral's incredible vaulting and dome.
Tinel
Trg Puckih Kapetana 1, Sibenik Restaurant
This unusual multistory restaurant stresses whimsy and originality in the decor, but the ingredients -- and many preparations -- are unadulterated Dalmatia. Fish dominates, but options include lamb and baked dishes. Try the brodet (fish stew), and match it with a local wine from the restaurant's nicely balanced cellar. Read more: (http://www.frommers.com/destinations/sibenik/D57391.html#ixzz20cJM5F8U)
PRIVATE ACCOMMODATION
Private accommodation has a long tradition in the Kvarner area. The people of this traffic-intensive area, know well what it means to give hospitality to travelers and tourists. In a warm family environment it all happens spontaneously, naturally, holidays are not programmed in detail, whether in a campsite, in a room, an apartment or boarding house.
Restaurants offer domestic specialities (lamb, grilled dishes, baked dishes – especially turkey).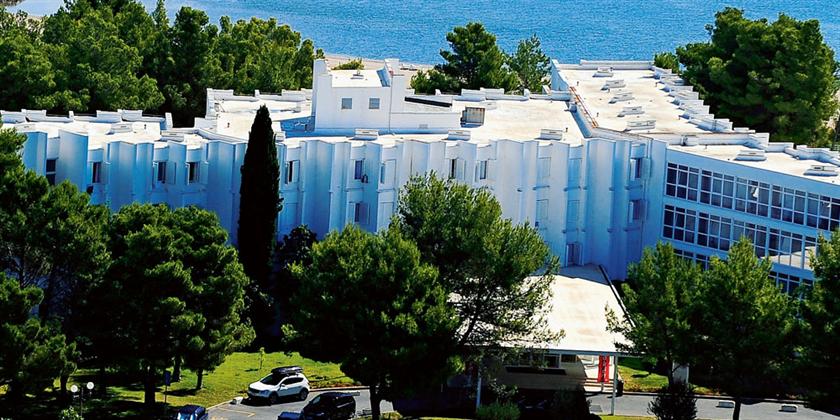 Jakov Hotel Sibenik
If what you're looking for is a conveniently located hotel in Sibenik, look no further than Jakov Hotel. From here, guests can enjoy easy access to all that the lively city has to offer. A haven of rest and relaxation, the hotel will offer total renewal just steps away from the city's numerous attractions such as Garderoba Train Station, Garderoba Bus Station, Franciscan Church & Monastery.
The facilities and services provided by Jakov Hotel ensure a pleasant stay for guests. Restaurant, elevator, laundry service/dry cleaning, 24hr room service, room service are just a few of the facilities that set Jakov Hotel apart from other hotels in the city.
Guests can choose from 238 rooms, all of which exude an atmosphere of total peace and harmony. The complete list of recreational facilities is available at the hotel, including tennis courts, gym, spa, indoor pool, outdoor pool. Discover an engaging blend of professional service and a wide array of features at Jakov Hotel.
Top 5 Star Luxury Hotels Croatia

Phones
Music
Monuments in Europe