Find us on Google+
Find us on Twitter
Neuschwanstein Castle, "New Swanstone Castle" is a nineteenth-century Romanesque Revival palace on a rugged hill above the village of Hohenschwangau near Füssen in southwest Bavaria, Germany. The palace was commissioned by Ludwig II of Bavaria as a retreat and as an homage to Richard Wagner. Ludwig paid for the palace out of his personal fortune and by means of extensive borrowing, rather than Bavarian public funds.
The palace was intended as a personal refuge for the reclusive king, but it was opened to the paying public immediately after his death in 1886. Since then more than 61 million people have visited Neuschwanstein Castle. More than 1.3 million people visit annually, with as many as 6,000 per day in the summer. The palace has appeared prominently in several movies and was the inspiration for Disneyland's Sleeping Beauty Castle and later, similar structures.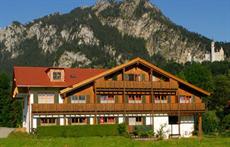 Alpenhotel Allgau Schwangau
Schwangauer Straße 37, Hohenschwangau, Germany
Alpenhotel Allgau Schwangau from www.hotelscombined.com
(1.8 km from Neuschwanstein Castle)
Situated in Schwangau, Alpenhotel Allgäu Schwangau is located a short drive from Fussen.
Each cosy room at the hotel features heating. Private bathrooms have a shower.
Alpenhotel Allgäu Schwangau features both a restaurant and a bar where guests can relax at the end of the day. For those who want to stay close for breakfast, a range of options are available in the hotel's dining room.
Alpenhotel Allgäu Schwangau is around 20 minutes on foot from Alpsee Lake. Hohenschwangau Castle and Neuschwanstein Castle are five minutes away by car.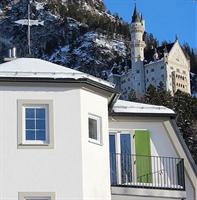 Villa Ludwig Suite Hotel
Colomanstrasse 12, Hohenschwangau, Germany
Villa Ludwig Suite Hotel from www.hotelscombined.com
(1.6 km from Neuschwanstein Castle)
Located a short car ride from Fussen, Villa Ludwig Suite Hotel provides modern accommodation equipped witha coffee maker, a mini bar and an iPod docking station. The multiple amenities this modern hotel offers include a wake-up service and a garden.
Rooms at Villa Ludwig Suite Hotel are spacious and offer a flat-screen TV with satellite/cable channels. They each include an en suite bathroom with a separate bathtub and fluffy bathrobes.
The hotel offers breakfast each morning that guests can enjoy before venturing out to explore the surrounding area.
Villa Ludwig Suite Hotel is within walking distance of Neuschwanstein Castle and Hohenschwangau Castle. Alpsee Lake is also located only a short walk away.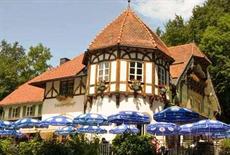 Schlossrestaurant Neuschwanstein Hotel Schwangau
Neuschwansteinstrasse 17, Hohenschwangau, Germany
Schlossrestaurant Neuschwanstein Hotel Schwangau from www.hotelscombined.com
(0.3 km from Neuschwanstein Castle)
This 4-star hotel is just five minutes from Neuschwanstein Castle.
The Schlossrestaurant Neuschwanstein Hotel Schwangau offers spacious rooms equipped with cable / satellite channels and heating.
The hotel enjoys a prime location, allowing guests easy access to a range of popular attractions. Schwangau town centre is within an easy 10-minute drive.
Bavaria – Neuschwanstein Castle
Ludwig II tried to create his own universe until his tragic death in 1886. He immersed himself in music and in the world of theater and built palaces that reflected his deepest longings. Herrenchiemsee, based on the Palace of Versailles, was constructed on an island in Lake Chiemsee. Its mirrored hall is 77 meters long -- four meters longer than its French counterpart. Farther west in the Allgäu region is Bavaria's most famous castle, Neuschwanstein. As many as 8,000 visitors a day flock here in the high season. Linderhof Palace, an hour's drive away, was completed during Ludwig's lifetime. He lived here, listening to http://vrzic.com/classical-music/Richard-Wagner.htmlWagner and dreaming in the illuminated Venus grotto. Source: http://www.dw.com/en/bavaria-neuschwanstein-castle/a-18007553
Disney's Castles
Castles in Austria

Europe Hotels
North America Hotels
South Pacific Hotels
South America Hotels
Central America Hotels
Africa Hotels
Middle East Hotels
Castles in Germany