Find us on Google+
Find us on Twitter
National Parks - Canada
Banff National Park, Canada
Banff National Park is Canada's oldest national park, established in 1885 in the Rocky Mountains. The park, located 110–180 km (68–112 mi) west of Calgary in the province of Alberta
Banff National Park is the most visited Alberta tourist destination and one of the most visited national parks in North America
Attractions in Banff include Upper Hot Springs, and a 27-hole golf course at Fairmont Banff Springs Hotel, and three ski resorts including Sunshine Village, Lake Louise Mountain Resort, and Mount Norquay ski resort. The Banff Lodging Co is a hospitality company in the park. Day hikes, such as the Cory Pass Loop, are popular with visitors. Other activities include alpine and Nordic skiing, and horseback riding.
Backcountry activities in Banff include hiking, camping, climbing, and skiing. Parks Canada requires those using backcountry campgrounds, Alpine Club of Canada huts, or other backcountry facilities to purchase a wilderness pass. Reservations for using the campgrounds are also required
Fairmont Banff Springs, Banff, Alberta, Canada
"The Castle in the Rockies" is stunning inside and out. The hotel turns 125 this year, and occupies a very special location in the heart of Banff National Park, Canada's first and oldest, a UNESCO World heritage Site. People have been coming from around the world ever since to stay and see this marvel.
Yoho National Park, British Columbia, Canada
Yoho National Park is located in the Canadian Rocky Mountains along the western slope of the Continental Divide in southeastern British Columbia. Yoho NP is bordered by Kootenay National Park on the southern side and Banff National Park on the eastern side in Alberta. The name Yoho comes from the Cree word for awe and wonder.
Yoho covers 1,313 km2 (507 mi2) and it is the smallest of the four contiguous national parks. Yoho, together with Jasper, Kootenay and Banff National Parks, along with three British Columbia provincial parks-Hamber Provincial Park, Mount Assiniboine Provincial Park, and Mount Robson Provincial Park—form the Canadian Rocky Mountain Parks World Heritage Site. The park's administrative and visitor centre are located in the town of Field, British Columbia, beside the Trans-Canada Highway.
The contiguous national parks of Banff, Jasper, Kootenay and Yoho, as well as the Mount Robson, Mount Assiniboine and Hamber provincial parks were declared a UNESCO World Heritage Site in 1984
Emerald Lake is located in Yoho National Park, British Columbia, Canada. It is the largest of Yoho's 61 lakes and ponds, as well as one of the park's premier tourist attractions.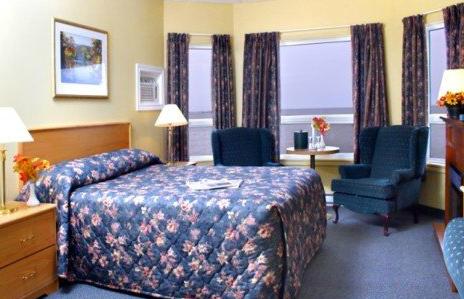 Gros Morne National Park
Hotels- Gros Morne National Park from www.hotelscombined.com
Gros Morne National Park is a world heritage site located on the west coast of Newfoundland. At 1,805 km2 (697 sq mi), it is the second largest national park in Atlantic Canada; it is surpassed by Torngat Mountains National Park, which is 9,700 km2 (3,700 sq mi).
The park takes its name from Newfoundland's second-highest mountain peak (at 2,644 ft/806 m) located within the park.
Hiking the trails is a popular activity at Gros Morne. There are about 20 marked day trip trails, exploring coastal and interior areas of the park. One of the more strenuous dayhikes is the 16 km hike over Gros Morne Mountain
Waterton Lakes National Park Canada
Hotels - Waterton Lakes National Park from www.hotelscombined.com
Waterton Lakes National Park is a national park located in the southwest corner of Alberta, Canada, and borders Glacier National Park in Montana, United States. Waterton was Canada's fourth national park, formed in 1895 and named after Waterton Lake, in turn after the Victorian naturalist and conservationist Charles Waterton. The park contains 505 km2 (195 sq mi) of rugged mountains and wilderness.
The park is part of the Waterton-Glacier International Peace Park, designated as World Heritage Site in 1995 for their distinctive climate, physiographic setting, mountain-prairie interface, and tri-ocean hydrographical divide. They are areas of significant scenic values with abundant and diverse flora and fauna
Jasper National Park
Hotels - Jasper National Park from www.hotelscombined.com
Jasper National Park is the largest national park in the Canadian Rockies, spanning 10,878 km2 (4,200 sq mi). It is located in the province of Alberta, north of Banff National Park and west of the City of Edmonton. The park includes the glaciers of the Columbia Icefield, hot springs, lakes, waterfalls and mountains. Wildlife in the park includes elk, caribou, moose, mule deer, white-tailed deer, mountain goats, bighorn sheep, grizzly bears, black bears, coyotes, beavers, Rocky Mountain pikas, hoary marmots, grey wolves, mountain lions, and wolverines.
Some of the park's scenic attractions include Mount Edith Cavell, Pyramid Lake with Pyramid Mountain, Maligne Lake, Medicine Lake, and the Tonquin Valley. Other attractions are the Marmot Basin ski area; the Snocoach tours of the Athabasca Glacier, an outlet glacier of the Columbia Icefield; Athabasca Falls; the Jasper Skytram, and numerous other outdoor related recreational activities (such as hiking, fishing, wildlife viewing, rafting, kayaking and camping)
Georgian Bay Islands National Park
Hotels - Georgian Bay Islands National Park from www.hotelscombined.com
Georgian Bay Islands National Park consists of 63 small islands or parts of islands in Georgian Bay, near Port Severn, Ontario. The park was established in 1929. The total park area is approximately 13.5 km2 (5.2 sq mi). Prior to the creation of Fathom Five National Marine Park, Flowerpot Island was also a part of the park
Beausoleil Island is the largest island in the park and it offers island tent camping, overnight and day docking, heritage education programs, and hiking trails. Wheelchair accessible sites and reserved campsites are also available at the Cedar Spring campground on Beausoleil Island.
Gulf Islands National Park Reserve
Hotels - Gulf Islands National Park Reserve from www.hotelscombined.com
Gulf Islands National Park Reserve is the 40th National Park in a system of 43 parks and park reserves across Canada. Located in British Columbia's Gulf Islands, it covers 36 square kilometres (14 sq mi) over 15 islands. It also includes numerous islets and reef areas.
Mayne Island - Hiking: There is an easy 1.5 km loop trail at Bennett Bay that leads to Campbell Point. Campbell Point features remnant old-growth forest and views of Georgeson Island. Bennett Bay has a sandy beach which is suitable for sunbathing and swimming. Georgina Point is the location of a historic lighthouse. Built in 1885, the Georgina Point lighthouse marks the entrance to Active Pass. Orca whales, harbour seals and seabirds can all be seen at Georgina Point
Ski Resorts In North America

Amazing Wonders