Jeju Canola Blossoms Festival
Find us on Google+
Find us on Twitter
Seogwipo South Korea Hotels
The southern Jeju Island - where spring first arrives in Korea - is covered with yellow canola blossoms from late March to early April. The city of Seogwipo hosts an annual canola blossom walking festival at Jeju Sculpture Park. Areas such as Mt. Sanbangsan, Seopjikoji, and Seongsan Ilchulbong also have plenty of canola blossoms, even thou they do not host organized festivals.
The road to Jeongseok Aviation Pavilion in Gasi-ri, Pyoseok-myeon is lined by canola blossoms and has been designated one of Korea's 100 most beautiful roads.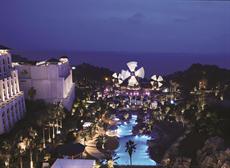 Lotte Hotel Jeju
35, Jungmungwangwang-ro 72beon-gil, Seogwipo, South Korea
Lotte Hotel Jeju from www.hotelscombined.com
Featuring a swimming pool, a sauna and a Jacuzzi, Lotte Hotel Jeju is situated in Seogwipo and provides comfortable accommodation. It offers free wireless internet access in public areas, free private parking on site and an all-inclusive meal plan, and is a short stroll from Jungmun Marine Park Pacific Land, the Yeomiji Botanical Garden and Cheonjeyeon Waterfalls.
Rooms at Lotte Hotel offer a rain shower and a private balcony. They are air conditioned and provide slippers, a mini bar and an oversized bathtub.
For guests of Lotte Hotel Jeju looking for a unique experience, Mu Gung Hwa hosts high tea, while Peninsula showcases impressive views of the pool. Those wanting to unwind with a drink can do so in the in-house bar.
The location of Lotte Hotel permits easy access to many tourist attractions. Jeju World Cup Stadium is just a short drive from the hotel.
Waterfall on Jeju Island Photo by Douglas Knisely
Jeju Province is one of the nine provinces of South Korea. The province is situated on and coterminous with the nation's largest island of Jeju, formerly transliterated as Cheju, Cheju Do, etc., or known as Quelpart to Europeans. The island lies in the Korea Strait, southwest of South Jeolla Province, of which it was a part before it became a separate province in 1946. Its capital is Jeju City.
The island contains the natural World Heritage Site Jeju Volcanic Island and Lava Tubes. Jeju Island has a temperate climate and even in winter, the temperature rarely falls below freezing point.
Tourism commands a large fraction of Jeju's economy. Jeju's temperate climate, natural scenery, and beaches make it a popular tourist destination for South Koreans as well as visitors from other parts of East Asia. The most popular tourist spots on the island are Cheonjeyeon and Cheonjiyeon waterfalls, Mount Halla, Hyeobje cave, and Hyeongje island.
Boryeong Mud Festival
The Boryeong Mud Festival is Chungcheongnam-do's leading festival, making use of the fine mud powder produced by removing impurities from the high-quality mud of the mud flats near Daecheon Beach. The festival is centered on fun, featuring large-scale mud baths, Korean wrestling in the mud, and mus slides. There are mud-related beauty programs such as mud self-massages and mud pack treatments, and a variety of mud-related products for sale.
Period: July (10 days)

K-Pop Korean Language in English (Full Edition): Raoul Teacher's Great 200 K-Pop Lectures [Kindle Edition]
Nowadays more & more people worldwide are getting interested in South Korea and its unique culture. Even in Korea the number of the visitor from the world already reached over 10 million. I, Raoul Teacher, as a native Korean & English teacher, have helped a friend in Romania on Facebook majoring in literature as Ph.D course learn Korean & Korean language through various songs through making more...
Lighting Festival Gapyeong-gun
Gurye Sansuyu Festival
Oedo Botania Festival

New Wonders of Nature