Monastery Meteora Greece
Find us on Google+
Find us on Twitter
Made famous by James Bond, Agia Triada (also Ayías Triadhos, Ayia Triada or Aghia Triada; "Holy Trinity") is probably the most dramatically positioned monastery of the Meteora. It is perched atop a slender pinnacle and accessible only by 140 steep steps, making it one of the most peaceful monasteries as well.
Lodging:........
View hotels near Agia Triada Monastery Meteora Greece
Agia Triada Monastery Meteora Greece
Agia Triada Monastery Meteora Greece
Kalambaka Meteora Greece
Hermit monks may have lived here beginning in the 14th century, but the present monastery was built between 1458 and 1476.
Until the 20th century, monks, pilgrims and supplies reached the monastery only by means of rope-ladders and baskets. But in 1925, access to the rock was eased by the addition of rock-hewn stairs.
Agia Triada suffered greatly in World War II and the German occupation, during which virtually all its treasures were looted.
Few tour buses stop at Holy Trinity Monastery, so it is comparatively peaceful and some semblence of monastic life is able to continue. It is inhabited and maintained by just a few monks.
The courtyard displays old farm implements and the old winch for hauling up baskets (a funicular now carries supplies to the top), as well as inspirational quotes from 1 Corinthians 13 (e.g. "Love is patient"). The monastic buildings are attractively half-timbered.
Lodging:........
View hotels near Agia Triada Monastery Meteora Greece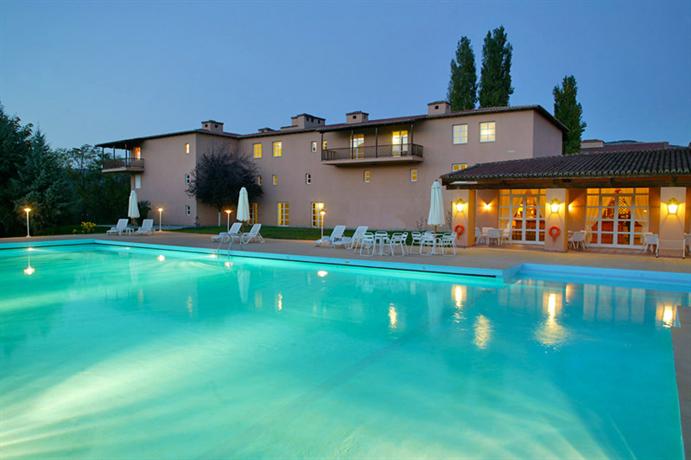 Agia Triada Monastery Meteora Greece
The small church (1476) has an exterior of brick and tile and is augmented by a large, unattractive narthex (1684). It has two domes, reflecting two building phases.
The frescoes in the church date from the 18th century and the those in the narthex from the 17th; they have been well restored. The church contains one of the few portable treasures that survived the 20th century: a Gospel book printed in Venice in 1539, with a silver cover.
Carved into the rock off the passageway into the courtyard is a round Chapel of John the Baptist (1682), which may occupy the site of an early hermitage. Holy Trinity owns over 120 religious manuscripts copied by its monks over the centuries, but for practical reasons these are kept at Agios Stefanos Monastery.
Lodging:........
View hotels near Agia Triada Monastery Meteora Greece
Top 10 Beautiful Churches Europe
Basilica of Santa Maria Novella Florence
Churches Serbia

Cathedrals and Churches of Europe
This marvelously illustrated volume takes us to a journey throughout Europe's most beautiful and magnificent sacred buildings. As the very heart and centre of most cities and villages, churches, cathedrals and basilicas have shaped the regional landscape in Europe to a great extent. Their architecture bears witness to the matchless skills of craftsmen and the mystic fervor that led to their building. Their century-old stone and stained glass tell the story of power and glory, sacrifice and devotion.
Sorted by country and region, there is one chapter for every important area in Europe. The beautiful photographs by Achim Bednorz show the stunning details of richly ornamented ceilings, lead glass windows, colorful carpets and solid stone walls. The accompanying maps guide lovers of churches and cathedrals to the portrayed monuments. Throughout its 12 fascinating chapters, this book reveals some interesting details about the buildings, their architecture, the interior, their artful embellishments and their sacral and historical meaning.
Top 5 Cathedral in Spain
Monuments in Europe

Hotels Rhodes
Hotels Mykonos
Cavo Tagoo Hotel Mykonos